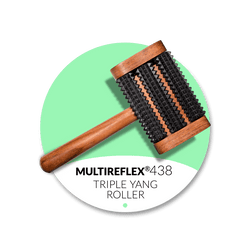 Multireflex
Triple Yang Roller | Nº438
The triple yang roller helps to reduce and model the volume of large parts of the body. We recommend daily use on the area you are looking to treat, in a steady back-and-forth motion for 5 minutes, taking care not to harm the skin. This toning process helps eliminate toxins and reduce fatty deposits.
For example, aid the postpartum recovery process by using the tool over the belly for 4 minutes a day to tone the abdominal muscles. This also helps to prevent organ prolapse.

It can also be used in sport, rolled over the athlete's muscles before exercising to encourage lymphatic and blood circulation, thereby nourishing the muscles.This compact rectangular tool is ideal for covering large surfaces of the body.  Its three pronged rollers have powerful reducing and revitalizing effects. Its ergonomic handle provides a good grip, allowing the therapist to apply vigorous stimulation to the thighs, hips and belly.  A great anti-cellulite alternative.